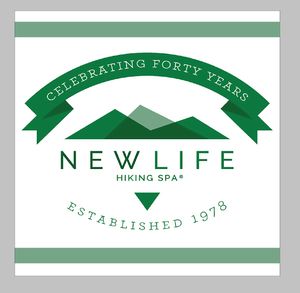 NEW LIFE HIKING SPA IS LIKE CAMP FOR ADULTS IN THE BEAUTIFUL GREEN MOUNTAINS OF VERMONT 
Jimmy LeSage, M.S. saw the vision and opened New Life Hiking Spa for its first season in 1978. His goal was to give folks the opportunity for fresh air, exercise and wellness activities, down time for relaxation and healthy food.  Decidedly this goal has been accomplished and all he wants now is to keep sharing it with fans old and new to New Life Hiking Spa. 
Along the way accolades have been earned, awards won and stories written about Jimmy and New Life Hiking Spa.   However, just as it was in the beginning, Jimmy is just happy when people feel better after their stay. One of his favorite sayings, 'It's all good' is heartfelt and filled with intention to make it happen for each and every guest. 
Jimmy and wife Kathleen now host hundreds of guests from May to October and sponsor a winter trip to Nicaragua.  Committed to making a positive influence on eating patterns, exercising and living stress-free, Jimmy is planning to keep his favorite recommendation in mind, 'Let's take a hike' but also may suggest, jump in the pool, stretch out with yoga, attend a lecture, get a massage or maybe even go shopping nearby. 
NEW LIFE IS TRULY A UNIQUE VACATION EXPERIENCE 
New Life Hiking Spa and Wellness Retreat may bring to mind oil treatments, big white fluffy robes and cushioned slippers but that is not what you'll find.  Sure, there are wonderful opportunities to unwind with a massage after a hike, but the experience they want to share is the luxury of the Vermont environment, the Green Mountains, the fresh air, the healthy food, and the feeling of well-being that you'll leave with.