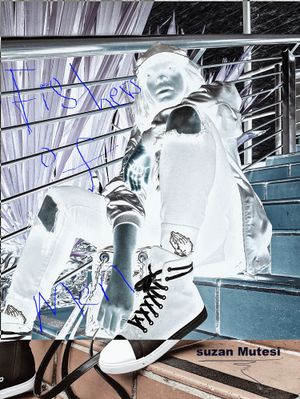 Rising African-Australian Music Artist, Seasoned Actress and Fashion Designer, Suzan Mutesi has proudly announced the worldwide release of her two latest songs titled 'Love Others, Love Run, Fishers of Men'. Born in Uganda and based in Australia, the rising artist is getting a phenomenal response from fans around the world and both of her songs are now available on the major music outlets of iTunes and Spotify. In addition to singing and songwriting, Suzan is also an emerging actress, an award-winning fashion designer and stylist. Moreover, she has recently been featured in a Sushi TV Advert that is currently being showcased in all the cinemas across Australia.
"I am overwhelmed by all the love and welcoming response from my fans worldwide on both these songs and these songs basically represent my own faith and believes on the concept of love and what it represents especially right now at a time such as this," said Suzan Mutesi, while talking about her songs. "My fans that have followed me as a fashion designer have been quiet surprise by my interest in music, I believe I am birthed in the image of the creator," Suzan continued. "The musical foundations have also been there, for me it was not a huge surprise but more a response of obedience and acceptance of whose I am, my purpose on earth for such at time as this is not dependent on me but to him, Who has given me freely gifts and talents to the honour his name and impact generations with a positive message of love," she added. Suzan is also known for winning an award as the international Fashion Designer of the Year in 2014 at the Abryan's Award. 
In addition, Suzan is also recognized industry-wide for her role in the irreversible choices 2016 and Gossip nation 2014, while she has also performed featured extra role in movies like The Wolverine working alongside Nicole Kidman, Wil.I.am and Hugh Jack man and a stand in The Australian. Suzan also was a regular featured extra on a show that featured on channel 7 Australian series Headland, working alongside Rachael Taylor a Hollywood star who is known for her act in the Transformers. 
Besides her regular TV and Film appearances, Suzan has also hosted several award ceremonies and fashion events. She is Australian-African Fashion Icon and she has inspired women around her with her success and principles, which motivate women to make a difference in the society. She is well-recognized for her work in the fashion industry and her multi-dimensional personality has led her to create amazing music in these two songs that are getting global reception. 
To listen to her music now, please visit: 
https://open.spotify.com/track/5WrgbHKpPxFRVofYXNX8Eb?si=8O8a3oS2TcKMS4XgH7Kw1Q:nwooS 
Or https://itunes.apple.com/au/album/love-others-remix/1339641378?i=1339641383 
https://itunes.apple.com/au/album/love-run/1339573020?i=1339573633 
www.instagram.com/suzan_mutesi 
Media Contact 
Contact Person: Suzan Mutesi - Artist 
Email: Send Email 
Phone: +61401522050 
Country: Australia 
Website: www.SuzanMutesi.com