Purchase your ticket today, click here!
We started Brooklyn Ubuciko Festival LLC as we have seen many great artists and entrepreneurs from the Art industry are still struggling to have a proper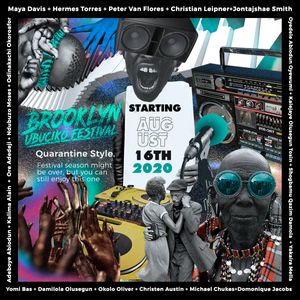 platform to promote their dreams and hard works. Before the virus outbreak, we planned to have a huge week-long festival in New York City. So, you can join us and surround yourself in the happiness brought to you by all of the masterpieces from this festival. But we had to adjust to the changing times vastly.  
We have no idea when we will overcome this pandemic outbreak! A magical moment popped up in our mind while we were scratching our heads. We just make this whole festival available online! So now, we have done our part, and it now needs your supports. Buy the ticket today, and immerse yourself with the arts, again.
Watch Yaya Diamonds review, Click here.
To enter an Experience & Purchase art work. 
​A full week of interactive fun includes: 
​ 
Cooking with two amazing chefs: Customers will get a shopping list to cook along with both chefs 
Yoga: Learning to meditate and stay fit during rough times where we often seek companionship and human connection 
Curated Discussions with Hosts about Sex, Current political Issues, Starting Businesses, Art, Design & Retail 
DJ's With two-hour shifts in your day to keep you moving 
Photography Classes 
Sip & Painting classes 
Financial Literacy 
Open Mic Night 
Health Task force 
Learning how to Vogue 
Live auctions from notable artists 
Live performances from bands, and Singers 
Mental Health talks 
And More