National Best-selling author, Patty Rice produces faith-based media content as CEO of Christian Culture Entertainment, LLC. She has written several books, including two bestselling novels, Somethin' Extra and Reinventing the Woman.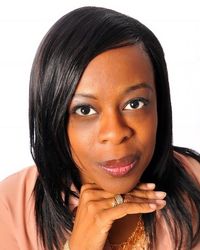 In her latest three books: "Power Couple (a novel), "The Power of a Staying Wife," and "God Restored My Marriage. Now What?" Patty Rice offers a transparent look into her 30-plus year marriage while presenting biblical marriage success strategies for wives that work. 
At 19, Patty married her high school sweetheart, Ty. The marriage nearly ended after several years but was radically transformed by God when He revealed to her practical insights that saved and healed her relationship, resulting in a fun, adventurous, perfectly imperfect marriage. 
Having experienced a positive outcome, Patty is now devoted to helping wives win at marriage, sharing her challenging journey and the vital biblical principles she used to refuel her relationship. Patty now calls herself a "staying wife" and happily lives with her husband and children in Maryland. Facebook Page  Purchase the book here